The Power of Natural Products
Beauty lovers have been using natural ingredients as cosmetics since ancient times.
Today, natural products are now ever more popular not just among environmentalists but even normal consumers. Beauty product consumers are more aware about what goes into their skincare products and it has become a prerequisite for a product to have the 'All-natural' label, before it even being considered to be purchased.
In this article we will focus on how a local company, Theo10, used natural ingredients sourced from botanical or mineral origin that are good not just for your skin, but also for the planet.
Utilizing natural ingredients tends to be less harmful to the environment, and less harsh on your skin than using chemical ones. However, that doesn't mean that natural skin care is less effective—in fact, it's the opposite.
The Trusted Brand
Theo10 is a Singapore company that manufactures and develops their own line of natural products. Till this day, they carry a myriad of products from skincare, to personal care, outdoor essentials, baby products and household cleaning items.
They are strongly committed to creating natural and effective products that are not only affordable but eco-friendly as well. The company holds a strong belief in their philosophy of promoting only 100% natural products. With products such as an all-rounded Eczema Cream and Mosquito Repellents, they were greatly featured by local media such as CNA, Straits Times as well as foreign media such as CNN and BBC.
In today's day and age, rapid advancements in technology can create many achievements and successes. However, some of these may come with side effects and a price to pay. The realisation and combination of certain natural ingredients yields great benefits which makes them treasure and appreciate the healthy, raw efficacy of herbs and their essential oils.
The Only Cure For HFMD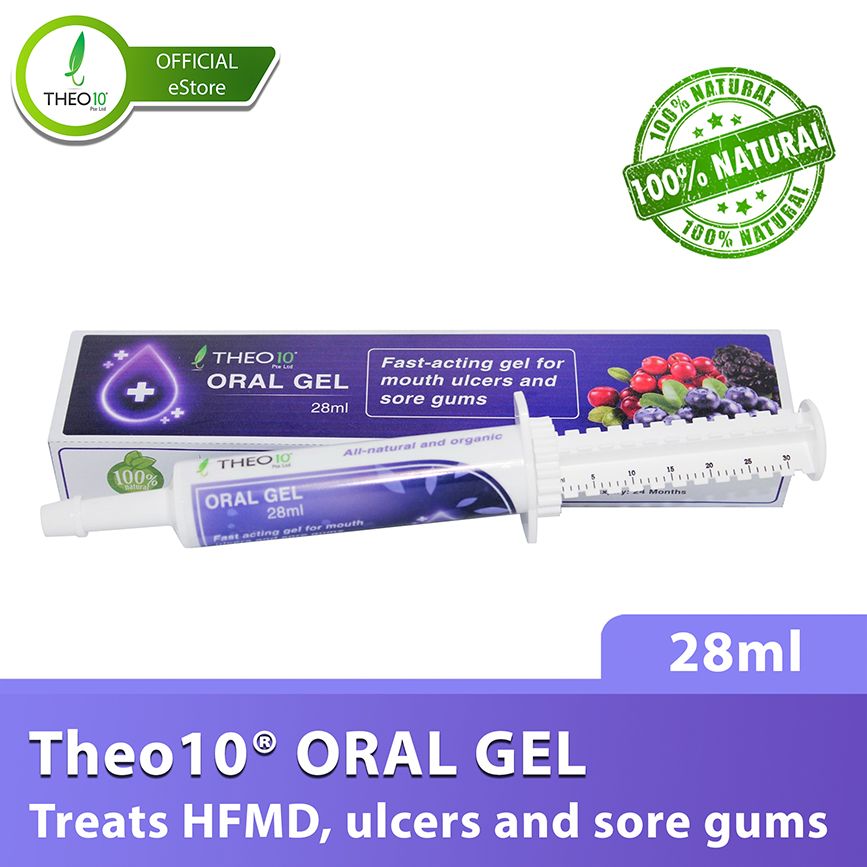 Photo Credit: https://www.theo10.com/theo10r-oral-gel-28ml.html
Theo10 has once made a scientific breakthrough by formulating a cure for HFMD (Hand-Foot-Mouth Disease) through partnership with local institution, Temasek Life Sciences.
HFMD is an extremely common childhood illness caused by a virus that is highly contagious. It easily spreads from person to person when someone comes in contact with the body fluids of an infected person. This can simply happen by: Touching something that has been sneezed, coughed or drooled on.
After working closely with renowned paediatricians regionally and the government's top research agency, Theo10 is proud to have created a patented product that cures HFMD within mere hours. It is not only the world's first, but also a proud product of Singapore and no chemicals.
The medication comes in the form of an oral gel charged in a syringe. The application is so simple and straightforward that it can be administered without the need of medical professionals.

Using all-natural ingredients, this medication is suited for all ages. This is a living proof of boundaries being pushed and a clear display of the capabilities natural products in the world of chemical drugs and medicines hold.
In Covid Situations

Photo Credit: https://www.theo10.com/fogging-machine-with-nacl-plus-1000ml.html
As a pharmaceutical company in Singapore, they have contributed their help to the society. Just last year, they refocused their production line to produce essential products targeted to help communities with Covid. They were one of the first in Singapore to manufacture an all-natural Hand Sanitiser as well as a Disinfectant Spray.
In addition, Theo10 took the extra mile to help local premises, offices and hotels to disinfect their workplaces using a fogging machine that uses electrostatic charges mechanisms.

This fogging machine has been listed on the NEA's website and has been scientifically proven to be able to kill Covid and other viruses. The fogging machine is said to be able to disinfect 1000 sq meters in mere 30 seconds and is safe for respiratory breathing for all ages and even pets.

Since then, they have reached out to government organisations to extend their help. They have donated their covid-related products to organisations such as Red Cross and Community Clubs in several GRCs.
The Benefits of Natural Ingredients in Skin Care
Modern skin care has the advantage of using plant and marine extracts that are scientifically researched, drawn from the purest sources, and tested thoroughly for safety. For that reason, botanical beauty is becoming a must-have component of the modern-day skin care routine. Here are a few more reasons why you should add natural ingredients to your arsenal:
They benefit a range of skin care concerns: From Vitamin A for wrinkle reduction to zinc oxide for acne prevention, there is a plant, mineral, or marine extract for your skin woes.
They're less irritating: With an emphasis on purity and consistency, products containing natural ingredients tend to be less irritating on skin. Additionally, because they're very powerful on their own, these products have fewer fillers and other chemicals which can also aggravate skin.

They deliver powerful results: Some of the biggest breakthroughs in beauty have come from natural ingredient applications. For example, extracting apple stem cells for use in serums has proven to be one of the most effective topical treatments for anti-aging available.
We all play a part in making Singapore free from Covid. Practicing hygiene is an absolute essential especially in times like this. The most effective decision to make is to switch all of our household cleaners to a natural range of products that do not contain harmful chemicals.
Theo10 welcomes both bulk and small orders. Contact Theo10 at enqiry@theo10.com for enquiries.